Commercial vehicle cores 
Purchasing process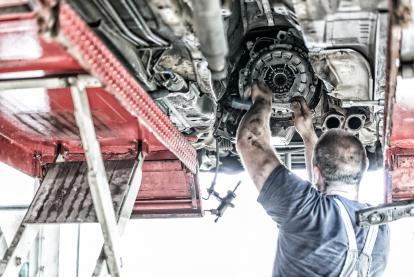 Quick and easy - send back your cores in only seven steps 
Register yourself before your first shipment by sending us your company details, including bank data and VAT number, to cores@c-eco.com. We will then inform you about our latest core purchase prices.
Collect your cores and pack them.
Fill in the core return form at https://www.coremannet.com/how-coremannet-works/pick-up/ and send it to support-cmn@c-eco.com. Please address the cores to the following address:

Circular Economy Solutions GmbH
c/o Quandt Logistik GmbH
Äckerfeld 1
37120 Bovenden
Germany

A pick-up date will be confirmed quickest possible.
4. Print and attach the core return form on each cardboard container.
5. Our service provider picks up your shipment.
6. Your shipment is inspected and you will receive a CoremanNet inspection report by email.
7. The payment is made according to the CoremanNet inspection report.
Additional information for your core return
Minimum quantity


We will pick up your cores at no cost as long as you package at least 20 kits (40 cores), regardless of the product. For example, you can mix 30 cover assemblies and 10 discs. In case you have collected less than 40 cores, the transport to us will have to be covered by you.




Packaging quality
Please use standard one-way pallets and cardboard packaging.

The "Back in Box" principle is helpful to protect the cores.  

Please note that heavy items such as clutch pressure plates or dual-mass flywheels can damage lighter items such as clutch discs or ConAct releasers that are placed underneath – please make sure to prepare a safe and secure shipment.


Core return criteria
The following cores can be returned. Cores must be in a certain condition to be remanufactured. Please check the core return criteria on https://www.coremannet.com/return-criteria/.



C-ECO purchases the following products:

 

SACHS pressure plates
280mm up to 430mm
SACHS pressure plates
280mm up to 430mm
6-spring-design, no 8-spring-design or older technologies
SACHS ConAct release units
Torque converter*
SACHS dual-mass flywheel*
WABCO EBS Trailer Modulator - Generation 2*
WABCO EBS Axle Modulator - Generation 2-4*
WABCO EBS Trailer Control Valve - Generation 4*
WABCO Clutch Actuator*
WABCO Single and Twin Cylinder Compressor

*

Accepted part numbers are listed below

.

C-ECO will credit a scrap value per piece for cores that do not fulfill the core return criteria. Purchase prices are subject to change without further notice.



Inspection results
Cores received at the CoremanNet selection center are inspected based on the above-mentioned core return criteria and part numbers. Cores are then accepted or rejected accordingly. You will receive your inspection results at the latest 15 days after the pick-up.

The core reporting shows the inspection results of your shipment:

"Rejected": the core is rejected if it is not an above-described product or if it does not match the core return criteria. C-ECO pays the actual scrap value which is stated in the inspection report. The inspection report shows all rejection reasons.

"Accepted": the core fulfills all core return criteria and can be used for remanufacturing. C-ECO pays the purchase price of the core which is stated in the inspection report.


Core payment


The purchasing quantity is equal to the quantity and value indicated in the CoremanNet inspection report. Pay­ment target is 30 days net, after submitting the inspection report.
Part numbers
Torque converter 

 
SACHS Dual-mass flywheel
WABCO parts